Arkansas' 7th Legacy Greenwing Project Dedicated
Keith 'Mongo' Futrell of Pocahontas honored in Saskatchewan
LITTLE ROCK - Oct. 23, 2017 - Ducks Unlimited staff, friends and family of Keith Futrell gathered in Saskatchewan October 6 to dedicate the seventh Arkansas Legacy Greenwing project in his honor.
If you have spent any time with Arkansas DU, you know Keith better as "Mongo." This dynamic and engaging volunteer started duck hunting at age 9 when his grandfather took him on the Black River in Arkansas. He started volunteering with DU at 18, and has steadily served the ducks for more than 35 years.
Dedicating the Legacy Greenwing project in his honor is fitting as Futrell's deepest passion is for youth engagement.
"I started on the ground level as a volunteer, opening boxes and putting things together. Then I became area chairman for a few years, a zone chair for several years, and when Alan Higginbotham became state chairman, he talked me into becoming the state Greenwing chairman. I'm still doing it," he said.
Futrell also serves on the national Youth and Education Committee. He became personally involved in the Arkansas Varsity Camp when his own son attended at age 15. He'll have been serving as a counselor for the camp 15 years in 2018. He also travels to as many Greenwing, Varsity and University events across the state as he can to help out.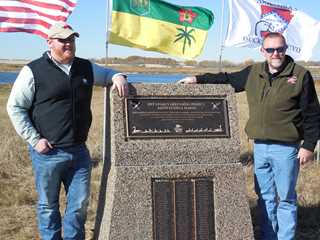 The Saskatchewan prairie project lies near Homefield, approximately 30 miles west of Yorkton. It is part of one of the most productive waterfowl areas of North America - the Touchwood Hills. The 160-acre property was purchased in 1998. The tame grass uplands have been managed as idled nesting cover most of the past 17 years with periodic haying. The remainder of the habitat was left idle to be managed for waterfowl habitat in perpetuity. The area supports waterfowl densities in excess of 40 pairs per square mile. Adding to the value of this project is the high wetland density in the surrounding area and its proximity to several other DU projects.
Arkansas Ducks Unlimited raised $20,000 through Legacy Greenwing memberships. The funding was used as match to secure a North American Wetlands Conservation Act grant.
The Legacy Greenwing program is a bridge between Ducks Unlimited's habitat conservation and youth programs. It is open to youths up to age 21 for a one-time contribution of $200. Legacy Greenwing membership funds are dedicated to a waterfowl habitat project, and each child's name is placed on a sign at the project site. This membership forever links these children to DU's mission of waterfowl habitat conservation.