Looking for a great hunt this season? Perhaps a new blind, decoy bag or collectible? Look no further! The DU Classifieds have many products and services geared to your interests.
Accessories
Auctions
Gear & Apparel
Gun Clubs & Outfitters
Real Estate
Retrievers
Water Resources
Miscellaneous
Scroll through the ads today... but come back often — we update frequently!
---
Accessories
DO YOU DUCK HUNT WITH AN OVER/UNDER SHOTGUN?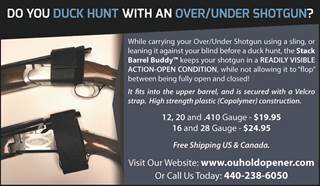 While carrying your Over/Under Shotgun using a sling, or leaning it against your blind before a duck hunt, the Stack Barrel Buddy™ keeps your shotgun in a READILY VISIBLE ACTION-OPEN CONDITION, while not allowing it to "flop" between being fully open and closed! It fits into the upper barrel, and is secured with a Velcro strap. High strength plastic (Copolymer) construction.
$19.95 12, 20 and .410 gauges
$24.95 16 and 28 gauges
USA Sales Only at this time. Free Shipping.
Visit our website: www.ouholdopener.com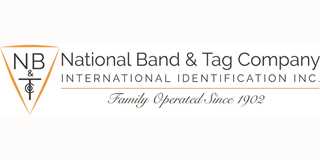 National Band & Tag Company
National Band & Tag Company is a family owned business since 1902, specializing in identification solutions. We sell our products worldwide to various industries including, but not limited to: wildlife conservation, poultry, cattle, lab animal research, dog and cat rabies vaccinations, and industrial applications. We are currently in our 5th generation and have eleven family members working together in our facility.
NB&T manufactures custom stamped bird bands for multiple purposes and bird species. We have a wide range of Butt-End band sizes (Style #1242), from a hummingbird to a swan. All our aluminum bands can be custom stamped to meet your needs and are available in multiple colors. Besides going on birds, these bands are also used as banquet bands, replica bands, business cards, promotional décor on duck calls, lanyards and more.
Like us on Facebook: www.facebook.com/NationalBand
Contact information:
Phone: 859-261-2035
Website: www.nationalband.com
Email: tags@nationalband.com
---
Auctions
---
Gear & Apparel
DO YOU DUCK HUNT WITH AN OVER/UNDER SHOTGUN?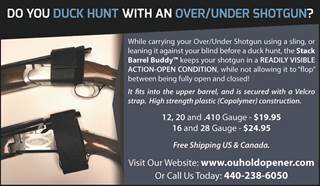 While carrying your Over/Under Shotgun using a sling, or leaning it against your blind before a duck hunt, the Stack Barrel Buddy™ keeps your shotgun in a READILY VISIBLE ACTION-OPEN CONDITION, while not allowing it to "flop" between being fully open and closed! It fits into the upper barrel, and is secured with a Velcro strap. High strength plastic (Copolymer) construction.
$19.95 12, 20 and .410 gauges
$24.95 16 and 28 gauges
USA Sales Only at this time. Free Shipping.
Visit our website: www.ouholdopener.com
---
Gun Clubs & Outfitters
Arkansas Duck Masters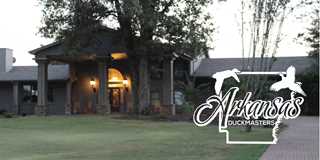 Looking for the experience of a lifetime – enjoy drinks and fresh pork rinds at the bar of our luxury lodge, dine at our table built for conversation, rest well in our custom built queen size bunks, enjoy the quiet morning riding to the blind, hunt flooded rice fields from a pit blind, shoot Mallards diving in the timber, take a bird that is the perfect mount, relax by the fire and relive the day – do it all over again tomorrow! Locally owned and operated – Arkansas Duck Masters is in the Mississippi Flyway, 20 minutes from the Memphis Airport – airport pickups and drop offs available at no charge. Two-day hunts start at $1,100 per person with lodging and meals include. Contact Chrissy at 870-735-4030 or Chad at 870-270-8586 – visit www.arduckmasters.com – or email us: chrissycarlson.grl@gmail.com.
Bay Prairie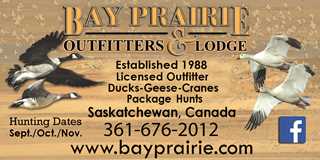 If you're looking for a quality Saskatchewan waterfowl hunt, look no further! We provide a unique experience like no other and our Saskatchewan duck and goose hunts are world class from start to finish. We scout countless miles of the Saskatchewan prairie in search of the largest waterfowl feeds, and with in your face decoying action on ducks, Canada geese, snows and sandhill cranes. You'll find yourself wanting to come back every year. Our package hunts include 3 guided morning hunts, 2 guided afternoon hunts, 3 nights of lodging with meals, license and stamps, shotguns provided, unlimited shotgun shells and bird processing. All you need to bring are your clothes and boots.
For further information please contact:
Mike Ladnier
Bay Prairie Outfitters
361-676-2012
bayprairie@ykc.com
www.bayprairie.com
Northern Flight Guide Service
North Dakota's Oldest Established Waterfowl Guide Company. Since 1988.
Northern Flight Guide Service invites your group to experience a first class guided North Dakota duck and goose hunting in the Devils Lake region. Our location is rich in waterfowl hunting tradition. Hunters from all over the United States have traveled to our area in search of some of the finest duck hunting and goose hunting available in North America. Accept our invitation to experience our services, hospitality, and some of the best duck and goose hunting to be found anywhere.
The Devils Lake region is positioned in the heart of the prairie pothole country in north central North Dakota. Our area hosts a massive variety of migrating ducks and geese that travel the central flyway. Few places can offer the variety and quality of waterfowl hunting that the Devils Lake region has to offer. Northern Flight prides itself on quality one-on-one service. Your group will hunt with one of our professional guides. You will stay at Woodland Resort, Devils Lake's premier lakeside hunting and fishing lodge. Top notch guides, great gear, outstanding lodging and meals, and huge numbers of ducks and geese make our guide company an easy choice for your next guided duck and guided goose hunting trip.
Contact information:
Northern Flight Guide Service
1012 Woodland Drive, Devils Lake, ND 58301
P: 701-662-5996
M: 701-739-9616
Fax: 701-662-7280
Website: www.woodlandresort.com
Email: woodlandresort@gondtc.com
Chincoteague Hunting & Fishing Center
Captain Pete grew up hunting and fishing on the Barnegat Bay. As that area grew, the less populated areas to the south became more attractive. Virginia's Eastern Shore has remained relatively unspoiled, since the business was started in the early 80's. Ponies still run wild on the barrier island. With the exception of Wallops Navel Base, there is little to no construction on the barrier islands along the coast. The peninsula consists primarily of farm land, chicken growers and Wildlife Refuges. The bays and marsh, where we do most of our hunting, has not changed at all. Waterfowl numbers in the area are as good now as they have been in recent memory. Although species fluctuate year to year due to weather, there is always something to hunt.
You have the opportunity to hunt puddle ducks, divers, sea ducks, mergansers, Atlantic Brant, Canada and Snow geese all in the day with over a 20 bird limit! The area is known for it's abundance and variety of waterfowl. The big numbers are typically Bufflehead, Brant and Black duck. The variety consists of just about any bird found in North America and some that are not often expected here. Chincoteague National Wildlife Refuge is listed as the wintering grounds for Greater Snow geese, it also holds plenty of other waterfowl. Chincoteague Hunting & Fishing Center is listed in a book written by Chuck Petrie titled "North America's Greatest Waterfowling Lodges & Outfitters."
For more information, check us out at www.duckguide.com or call Captain at 757-894-8148.
Doug's Hunting Lodge
For over 45 years, Doug and Mary Sonnier have been helping hunters enjoy some of the nation's finest waterfowling. From this experience has grown Doug's Hunting Lodge, a full service camp that is sure to satisfy even the most seasoned hunter. Spanning thousands of acres of prime habitat, Doug's prairies and prime marshflats are strategically spread throughout the heart of America's greatest wintering grounds. When the birds move, Doug's hunters move with them, led by the best guide staff in the state of Louisiana. Whether it's a fun hunt with family and friends or a corporate excursion with big business on the line, Doug's Hunting Lodge can make your next outing your most memorable and exciting. Hundreds of serious wingshooters throughout the nation make their annual pilgrimages here to experience some of the world's best hunting and hospitality. We hope you will join us!
Contact information:
Doug & Mary Sonnier
337-536-7902
dougsldg@bellsouth.net
Paradise Wings Lodge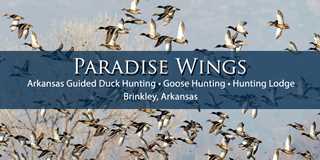 Paradise Wings Lodge, located in Eastern Arkansas is where you will enjoy a first class waterfowl experience, coupled with great home cooking, and true Southern hospitality. With over 40 years experience in the U.S., Mexico,and Canada, we know how to provide a memorable hunting trip you will remember for a lifetime. We offer duck hunts in flooded green timber and flooded rice and soybean fields. Our goose hunts are in rice, soybean and wheat fields. We offer Conservation Season spring snow goose hunts with electronic calls, unplugged guns and no bag limits. We hunt only private land! Dogs are welcome! Kennels are provided! A guided morning duck hunt, lodging and meals is $375.00 a day per person. Guided morning duck hunt only is $250.00. You can add a guided afternoon goose hunt for $125.00 per person. The rate for the spring snow goose hunt which includes a guided all day goose hunt (approx. 10 - 11 hours), lodging and meals is $275.00 per day per person. Snacks and drinks are available free of charge. All hunts include bird processing. Paradise Wings Lodge is a few minutes south of Brinkley, Arkansas which is halfway between Memphis and Little Rock on I-40, 35 miles N/E of Macks Prarie Wings, the Souths premier waterfowl outfitter, located in Stuttgart, Arkansas. For more information or for reservations, phone 870-734-2030, or e-mail at paradisewings@yahoo.com. Please see our website at http://www.paradisewings.com, Like us on facebook @ Paradise Wings Hunting Lodge. We look forward to hearing from you and helping you book your hunt.
Roberson Bro's Guide Service
Before your hunt begins a home cooked country style breakfast including biscuits, gravy, meat and eggs will be cooked early that morning and served hot to get you going before your hunt takes place over flooded corn and beans in one of our heated stationary blinds on private property where your party will be the only party hunting that day. We do not mix parties. The hunting property is right on the Mississippi flyway, where thousands of ducks migrate each winter, joining the Back Bayou State Refuge and is a half mile West of the legendary Reelfoot Lake, 2 miles east of the Mighty Mississippi River and one half mile south of Long Point Federal Refuge. Lunch will be cooked and served to you in the blind if the daily bag limit has not been reached by noon, the hunt will go until 2:00 pm or until the daily bag limit is reached. No hunting will be done on the property after 2:00 pm to allow the birds to come in and feed with no hunting pressure. Please call or email today to book a duck hunt that will make memories for a life time.
Terry Roberson
731-446-9501
731-538-9248
terrylroberson@yahoo.com
---
Real Estate
---
Retrievers
Double TT British Kennels
Whether you're needing a search and rescue, diabetic alert, hunt test performer, hunting companion, an incredible addition to a British gundog program or just a dependable, loving pet, you'll find your special puppy at Double TT British Kennels.
"We chose to work with Haynes at Double TT after several recommendations from trainers about his dogs and more importantly, about his honesty." –Paul Schultz
"...I bought my first puppy from Haynes in 2001...Double TT dogs are not only great retrievers out of a duck boat or blinds, they are even better members of our family when the hunt is over and it's time to put your feet up" –Mike Martin
"These dogs are highly intelligent, healthy, trainable animals that also make wonderful companions..." –Elaine Kunis, L2R Kennels
I have owned dogs from Double TT for over twenty years. I can't say enough good things about Haynes and his British labs...some of the greatest times of my life have been spent with Double TT dogs and now my son, Hunter, continues the relationship with his first Double TT labador..." –Mike Atkins, Berties Bayou
"We got our first Double TT puppy in 2004...There are three more since...all great dogs" –Jerry Stahl
Contact information:
Cory Doudican
(620) 794-6088
britlabs@embarqmail.com
Huntfield British Labrador Retrievers
From Field to front Porch – Companions of a Lifetime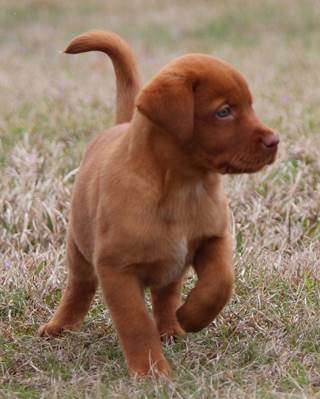 Through the careful selection of just the right breeding stock, Huntfield offers you championship caliber British Bloodline Labrador Retrievers for the discriminating lab owners/hunters. For many years our bloodlines have been tediously and selectively bred for several key desirable traits—calm and controlled temperament, the unwavering willingness to please, a balanced driven-but-steady spirit and, last but not least, beautiful looks coupled with uncanny hunting instincts and ability. This 'balance' produces pups with a laid back temperament perfect for companionship/family life without compromising those skill sets needed to be successful in the field "bringing back the game."
Contact information:
Phone: Mark Lowe 601-327-9348 or Melody Lowe 601-407-1171
Website: www.huntfieldlabs.com
Email: huntfieldlabs@aol.com
Retriever Barn
My name is Dave Gyurica and I'm the owner of The Retriever Barn and I've been a trainer with working dogs for more than 50 years. I offer obedience training 1-on-1 with dog and owner for all breeds & mix breeds. I also train for waterfowl, upland & deer shed hunting. I train all breeds of flushing and pointing dogs. I can also train your dog for hunt test certification. Please contact me with any questions. Thanks. 419-334-9332 / dgyurica@woh.rr.com.
Wildrose Labradors
Wildrose Labradors, produced from imported English and Irish bloodlines, are regarded among wingshooters and adventurers as the finest versatile sporting dogs in the world. Since 1972, Wildrose has produced a classic "Gentleman's Gundog" of superb temperament and natural game-finding ability; a dog that is compatible in the home, dynamic in the field, and the perfect complement to any family's outdoor lifestyle. Each Labrador is custom-trained with our positive, balanced methodology, The Wildrose Way, to meet the client's individual expectations.
Offering puppies, started and finished British Labs at our training facilities conveniently located at Oxford, Mississippi; Dallas, Texas; Raleigh, North Carolina; and Teton Valley, Idaho. Contact 662-234-5788 or info@uklabs.com. Visit uklabs.com and wildrosetradingcompany.com.
Zoom Dog Supplements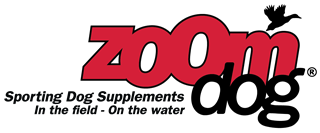 ZoomDog Supplements has provided quality antioxidant supplements to sporting dogs for over 15 years. A favorite of gun dog owners and trainers is Hunt Dog Hunt™ Performance Joint Formula with powerful antioxidants and joint strength nutrients. Flavored chewable tablets come in a variety of bottle sizes.
ZoomDog's Pro Staffer Lyle Steinman, long-time user of Hunt Dog Hunt, has won 7 Super Retriever Series Crown Championships. Lyle uses Hunt Dog Hunt™ and Thirsty Dog™ to keep his dogs performing their best and hunting well into their senior years. Make your dog a ZoomDog today! (800) 876-8660 / www.zoomdogsupplements.com
---
Water Resources
Aquacide Company
Aquacide Company is a family owned and operated business, since 1956. Since that time we have grown considerably and so has our product line. The reason we have grown is simple. Our proven products get you results and are easy to use. The variety of products we offer will help manage your recreational lake or pond to make the most of your property's potential. Improve your water quality, restore water-oriented activities and increase the value of your property.

Where required, each product is registered by the U.S. EPA. In addition, our products are certified and approved for use by state agencies. Consult your local State Fish and Game Agency before beginning. All of the products offered are easy to use. Simply follow the instructions on the container. If you have questions, please call us. We can provide guidance in selecting the products you need to achieve best results.
A large inventory of material is maintained to insure quick delivery. Your order will likely be shipped the day it is received. We also offer FREE SHIPPING throughout the continental US. Call directly, try our e-mail, Web site or voice mail. Order today!
Contact information:
800-328-9350
Email: weeds@aquacide.com
Website: www.aquacide.com
---
Miscellaneous