Hunting Across Canada: Snow Geese A La Quebec
Greater snows provide some of eastern Canada's most interesting waterfowling
Disclaimer: This page has been archived for historical reference. While the information was accurate at the time of creation, we recommend verifying with our actively maintained content for the latest updates.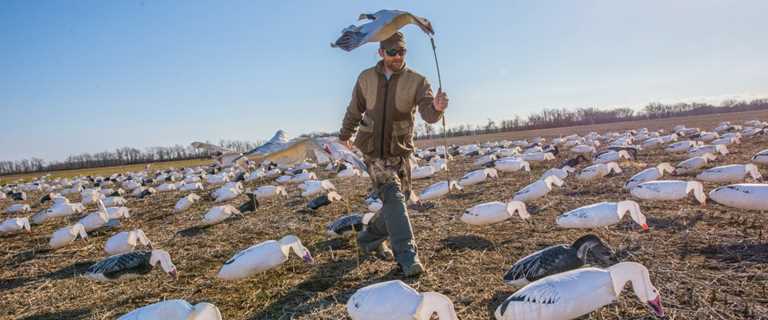 From the Ducks Unlimited magazine Archive
By Bruce Batt
Greater snow goose hunting in Quebec was once the exclusive purview of a few members of the Cap Tourmente Club de Chasse. During fall migration in the 1950s, virtually the whole population of only 12,000 birds stopped on the St. Lawrence River, near Quebec City on property controlled by Le Club or on a nearby island, Isle-aux-Grues. Wealthy sportsmen, politicians, and business magnates were among the few who had the opportunity to harvest only one bird per day in some years. Not surprisingly, unique hunting lore and traditions are deeply entrenched in the local community.
The situation is much different now. Greater snow populations have grown beyond 800,000, and managers consider the birds on the verge of overpopulation. Liberal bag limits in both the United States and Canada and a spring season in Canada help maintain the population at sustainable levels. The birds are no longer so restricted in distribution and have spread to agricultural lands for miles up and down the St. Lawrence.
Louis Garant and I were invited by Pierre Viger to join him overnight at his historic club at Ile-aux- Oies, an extension of Isle-aux-Grues. Both Garant and Viger are members of DU Canada's board of directors. We were tantalized by what we could absorb in our short 18-hour visit. Our hunt was unsuccessful the next morning, but we marveled at the flocks of greater snow geese that were tumbling from the stratosphere as they were just arriving from their breeding grounds in Canada's eastern high Arctic wilderness.
Seeing all those birds arriving on the first outing instilled soaring expectations for the next day. The sights of tumbling white geese against a gray sky were inextricably etched in my brain.
The next day we moved downriver to hunt near Isle Verte with an old friend, Pierre Dupuis, and his hunting partner, Yvon Mercier. Dupuis is retired from the Canadian Wildlife Service, while Mercier is chief of their habitat division. We were joined by Bernard Filion, DU's manager of operations in La Belle Province.
After being roused at 4 a.m., we made our way to private farmland along the river where Dupuis had secured permission to hunt. We set out quite a collection of decoys including several experimental models that Dupuis developed himself. Some of these seemed pretty quirky, but of course, the test of their effectiveness would soon be upon us. He also used a tape of snow goose calls that he had made (electronic calls are allowed in Quebec for fall snow goose hunting). The volume, sequence, and choice of calls provide for endless experimentation, which fascinates Dupuis.
Before shooting time, several snow geese left their river roost, and some even landed in the decoys—probably birds that had become separated from their families. With geese already in the decoys, we should have been better prepared for the first legal flock. The birds drifted in quietly and were very close when we first saw them. With everybody scrambling to turn around and rushing their shots, it was a sad demonstration of shooting prowess.
Four more geese signaled their interest in our spread. Dupuis tuned up the electronic call, and we crouched as the birds approached, drifting sideways a few times before they finally came in just a little wide of the decoys. They saw us, and their wing beats quickened. Filion and I looked at each other and agreed that it was now or never, so we both stood and each downed our first bird of the day.
Everybody got into the action over the next couple of hours. Our bag of 16 birds was highlighted by the adults, which are magnificent, strong birds and the largest of North America's "light" geese.
The birds would typically come off the river but not often in line with our spread. Upon hearing the electronic call, many flocks turned to take a look at the decoys. After a couple of hours, the snows returned to the river from feeding, and some of these flocks also responded to our decoys and calls.
Dupuis and Mercier have had a long run with good success chasing this magnificent bird that arrives from beyond the Arctic Circle each year. The expansion of greater snows from the area immediately around Cap Tourmente has spread hunting opportunities along the St. Lawrence River lowlands. The freelance hunter can still make arrangements with local landowners, but the demand is increasing. It pays to spend plenty of time scouting before fully committing to the next morning's hunt.
Hunting Across Canada Features