Buckingham Trail
Follow in the footsteps of this famous author with a DIY driving tour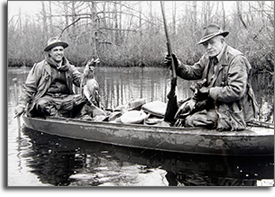 Theophilus Nash Buckingham is revered in the world of outdoor literature. His tales of gun dogs, waterfowling adventures, and characters that defined turn-of-the-century sportsmen enlightened literary communities and outdoor enthusiasts alike.
Buckingham completed nine books, many of which were compilations of his hundreds of printed articles for publications such as Outdoor Life and Field & Stream. His vivid memory and ability to translate the southern vernacular into print made his writings all the more unique and believable. Buckingham called Tennessee his home, and many of his stories took place around Memphis, where Ducks Unlimited is headquartered today.
This special daylong tour of Buckingham's old haunts is perfect for avid waterfowlers passing through this area or hunting locally, highlighting the culture, landscape, characters, history, and waterfowling traditions of the Mid-South region. So, grab your GPS device and take a trip down the Nash Buckingham Trail.