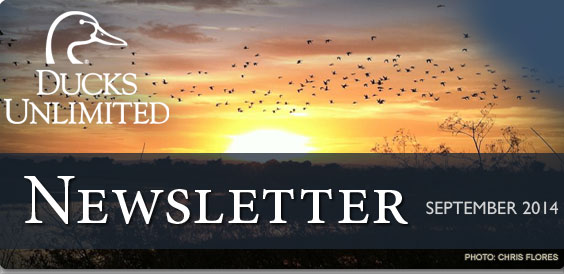 20 Public Waterfowling Hotspots

There is a steady stream of advice out there about how to hunt public areas (or even how not to), but there is little information on where to hunt. The DU Newsletter is kicking off Waterfowl 360 with five fantastic public waterfowling destinations in each flyway. Find out which public hunting hotspots made the list.

September Gear Guide

The Traveling Waterfowler

Whether you are planning a day trip to duck country, or a weeklong pilgrimage to a waterfowling hotspot, packing the correct gear for a hunting trip can be difficult. The following items are a collection of must-pack gear for any waterfowler hitting the road this season.

2014 Waterfowl Forecast

Another large fall flight is expected as duck populations soar to new heights on the breeding grounds

With a few notable exceptions, North America's waterfowl have had a remarkable run. Total duck population estimates have hit record highs in three of the past four years as exceptionally wet weather has filled wetland basins across the prairies of the United States and Canada. According to the U.S. Fish and Wildlife Service (USFWS), the 2014 estimate of breeding ducks in the traditional survey area was 49.2 million birds, an 8 percent increase from last year's total and the largest estimate since standardized surveys began in 1955.

Waterfowl Migration Map

Waterfowl migration alerts and resources bring timely, credible information

With several states enjoying an early teal season this year, the DU Migration Map roared to life the last week of August. Teal and early Canada goose reports are dominating the upper Atlantic, Mississippi, and Central Flyways, but reports from southern states are beginning to stack up. Follow the ducks!

DU News: Recent Headlines

Blue-winged Ducks

North America's most closely related ducks include northern shovelers and blue-winged and cinnamon teal
Photo: MichaelFurtman.com


Photo Essay: Sunrises

A photographic display of the stunning scenery that comes with waterfowl hunting
Photo: Ducks Unlimited

DU TV

Check out this week's episode, "Maryland Sea Duck Sampler," airing Saturday, Sept. 6, at 8:30 p.m. EST on the Pursuit Channel.


20 Public Waterfowling Hotspots
Waterfowl 360
Gear Guide: The Traveling Waterfowler
2014 Waterfowl Forecast
DU Migration Map: Follow the ducks!
DU Holiday Cards
... and more

Favorite Member Photos

Check out our editors' favorite selections from DU's Member Photos of the Day for the month of August.



Waterfowl 360

Your ultimate waterfowling resource!

Retriever Training Tip

Traveling with your retriever

Pro dog trainer John Luttrell shares his list of must-have items you should always pack when traveling with your retriever. Photo: Mike Demboski

DU TV Duck Gun Tip

Why we miss

Phil Bourjaily, shotgun columnist for DU magazine, counts down the top five reasons duck hunters miss.

DU Member Benefit

DU Holiday Cards – perfect time to order!

Over 30 Christmas and general holiday cards are ready for you to view and order – plus holiday puzzles, ornaments, and note card sets.

Corporate Partner Spotlight

Waterfowl Recipe

Duck or Goose Tarts, by Scott Leysath