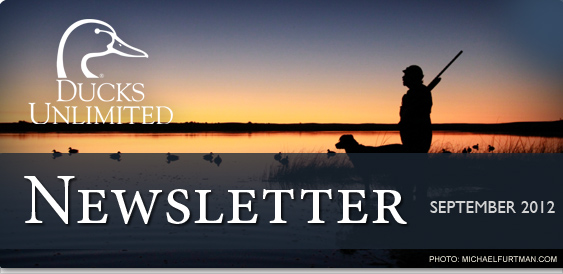 10 Essential Items for DIY Waterfowl Hunts

If you are planning a do-it-yourself waterfowl hunting trip this fall, packing the right gear can make the difference between a successful adventure and a dismal failure. Here are 10 often-overlooked items that you shouldn't leave home without.

September Gear Guide

Blind bags, backpacks and vests

The September Gear Guide is all about waterfowling bags. The DU E-Newsletter editorial team has selected multiple bags, backpacks and vests for you to examine. Find one that suits your waterfowling style!

DU Magazine: Guns of DU

A look back at some of the modern classics selected as DU Guns of the Year

You go to a DU banquet to give back to the ducks. But you also get a chance to get a special-edition DU "dinner gun" as part of the deal. Specially decorated and numbered, all DU guns are indeed collector's items, but underneath the fancy embellishments they remain hunting guns too.

Waterfowl 360 Preview

What's coming this season!

If you're looking for the ultimate resource for waterfowl hunters, look no further. Featuring hunting tips, waterfowl migration updates, gear and much more, Waterfowl 360 has you covered for the 2012-2013 waterfowl hunting season!

DU News: Recent Headlines

DU's John Tomke reappointed as chairman of federal conservation, hunting council

John Tomke, former Ducks Unlimited Inc. president and current president of Ducks Unlimited de Mexico, has been reappointed chairman of the Wildlife and Hunting Heritage Conservation Council (WHHCC).

More Headlines

The Bigger Bang Theory

Why DU memberships are the best value in conservation.

The Spectacular Wood Duck

A photographic tribute to one of the world's most colorful ducks. Photo by Tom Reichner

Drought and Deluge

We can't control the weather, but conserving wetlands and grasslands on the prairies will help ensure the long-term health of duck populations. Photo by Jim Ringelman


DIY Waterfowl Hunts
Waterfowl 360 Preview
Gear Guide: Blind Bags
Guns of DU
DU-TV Waterfowling Tip
Wood Duck Photo Essay
... and more

Favorite Member Photos

Check out our editors' favorite selections from DU's Member Photos of the Day for the month of August.

Corporate Sponsor Spotlight

Leading companies, corporations and brands recognize Ducks Unlimited as the leader in wetlands conservation and one of the largest and best membership organizations in the world.

DU-TV Better Waterfowling Tip

Full-Body Decoys

DU-TV's Wade Bourne explains how to utilize full-body decoys for more realism in your decoy spread.

Retriever Training

Steadiness on a Stick

Mike Stewart from Wildrose Kennels explains how he trained Deke, the DU dog, on steadiness by using a pigeon on a stick.

Waterfowl Recipe

Mixed Grill, by Scott Leysath

Happy 75th Anniversary Message

Former DU president Bob Marcotte wishes Ducks Unlimited a Happy 75th Anniversary.

DU Member Benefit

DU Holiday Cards—33 designs available

Our 2012 collection of Christmas and general holiday cards is ready for you—along with holiday puzzles, ornaments and note card sets.