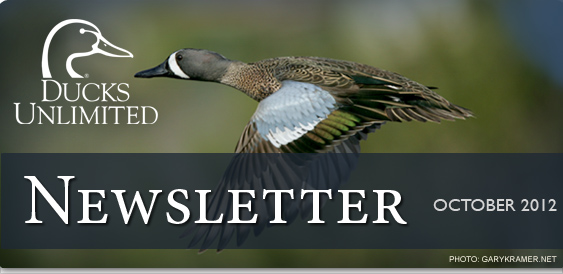 A Freelancer's Guide to the PPR

With a mix of grasslands, croplands, and wetlands, the Prairie Pothole Region (PPR) of the north-central United States and southern Canada supports millions of breeding and migrating waterfowl. From mallards to giant Canada geese, there are opportunities aplenty for the freelancer in the Prairie Pothole Region. Here's how to do it.

October Gear Guide

Document your hunts

The DU Newsletter editorial team selected several gear pieces that may allow you to improve the images and video you work hard to capture from the duck blind.

DU Magazine: Going Public

Many of the author's favorite waterfowling memories were made on public lands, open to one and all

In almost five decades of waterfowling, I have chased ducks and geese on national wildlife refuges, wildlife management areas, national and state forests, military reservations, private lands open to public hunting, and many other areas. Some of these places have provided me with the best duck and goose hunting imaginable. Here are just a few of my most memorable public waterfowl hunts.

DU Migration Map

Follow the migration this season!

DU News: Recent Headlines

Two Ducks Unlimited members nominated for conservation awards

Two Field & Stream Heroes of Conservation nominees have more than their passion for wildlife in common; Eddie Bridges and Cliff Brown have both been Ducks Unlimited members for decades.

More Headlines

Waterfowl Hybrids

Crossbreeding produces rare and interesting birds but also threatens the survival of some species. Photo: John Hoffman, DU

Canvasbacks—Long live the king!

A photo essay documenting the grace and elegance of North America's king of ducks. Photo: Ron Charest

Conservation Gains and Losses

While progress has been made in conserving the nation's wetlands, these vital habitats continue to decline at an alarming rate. Photo: MichaelFurtman.com


A Freelancer's Guide to the PPR
Gear Guide: Document your hunts
Going Public
DU Migration Map
Canvasback Photo Essay
... and more

Favorite Member Photos

Check out our editors' favorite selections from DU's Member Photos of the Day for the month of September.

Corporate Partner Spotlight

Leading companies, corporations and brands recognize Ducks Unlimited as the leader in wetlands conservation and one of the largest and best membership organizations in the world.

DU-TV Better Waterfowling Tip

Hunting migration corridors

DU-TV's Wade Bourne explains how to hunt the edges of the "X."

Retriever Training

Look to the sky

Mike Stewart of Wildrose Kennels explains how he trained Deke the DU dog to look towards the sky for birds.

Waterfowl Recipe

Duck Extravaganza, by Gary MacMurtrie

Happy 75th Anniversary Message

Dean Smith

Dean Smith of the Association of Fish and Wildlife Agencies wishes Ducks Unlimited a Happy 75th Anniversary.

DU Member Benefit

DU Holiday Cards—Now is the perfect time to order

33 Christmas and general holiday cards are ready for you to view and order—along with holiday puzzles, ornaments and note card sets.