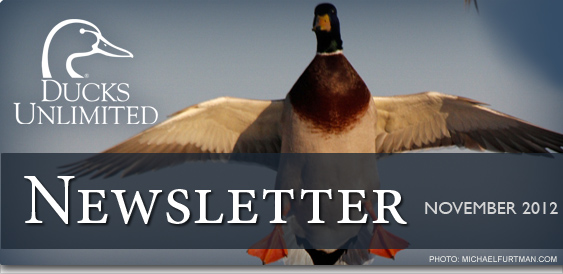 Creative Tactics for Suburban Birds

Handy advice for hunting waterfowl near metropolitan areas

Drive through any city near a major waterfowl flyway and odds are you'll see hundreds of ducks and geese loafing on a shopping mall pond or grubbing away on green grass in a park or on a football field—safely out of reach of waterfowl hunters. At least they think they're safe! With a little creativity, it's possible to have great waterfowl hunting just beyond the city limits.

November Gear Guide: Decoys

New styles and models for the 2012-2013 season

The DU Newsletter editorial team pulled together a wide variety of decoys for every hunting situation. This month, the gear guide showcases decoys for geese, puddlers and divers.

10 Ways to Contribute to Waterfowl Conservation

Ducks Unlimited's habitat restoration and protection programs are delivered through the philanthropy and hard work of more than 600,000 members. Just as there are many reasons to give, there are also many ways to give.

DU Logo Pumpkin Carving Contest

After several days of voting, DU Facebook fan Jody Hildreth won the 2012 DU Logo Pumpkin Carving Contest with a fantastic Ducks Unlimited wood duck carving.

DU News: Recent Headlines

DU reaches 500,000 Facebook fans

The next generation of conservation supporters is booting up and logging on.

More Headlines

DU Migration Map

Brought to you by Remington

SportDOG Future Forward Fund Contest

Ducks Unlimited is in the running for a $25,000 grant from SportDog to conserve crucial acreage in the Prairie Pothole Region.

10 Great Cities for Waterfowlers

Some of the nation's best waterfowling is only a short drive away from these metropolitan areas. Photo: visitseattle.org

DU Magazine: Winning at the Ballot Box

Dedicated funding amendments have bolstered wetlands and waterfowl conservation programs in Iowa and several other states. Photo: MichaelFurtman.com


Creative Tactics for Suburban Birds
Gear Guide: Decoys
10 Ways to Contribute to Conservation
WF360 Retriever Photo Contest Winner
Waterfowl Destinations Photo Essay
... and more

Favorite Member Photos

Check out our editors' favorite selections from DU's Member Photos of the Day for the month of October.

Waterfowl 360 Retriever Photo Contest Winner: AJ Layton

Brought to you by Winchester

DU-TV Better Waterfowling Tip

Dressing for the conditions

DU-TV's Wade Bourne explains how to properly dress for waterfowling conditions.

Corporate Partner Spotlight

Leading companies, corporations and brands recognize Ducks Unlimited as the leader in wetlands conservation and one of the largest and best membership organizations in the world.

Retriever Training

Finding birds deep in the woods

Mike Stewart of Wildrose Kennels demonstrates retriever training tips for your dog. Featuring Deke the DU Dog.

Waterfowl Recipe

Stuffed Goose Medallions, by Scott Leysath

DU Member Benefit

DU Holiday Cards—It's not too late!

There's still time to order your DU Christmas, general holiday cards and fun gifts—holiday puzzles, ornaments and note card sets.