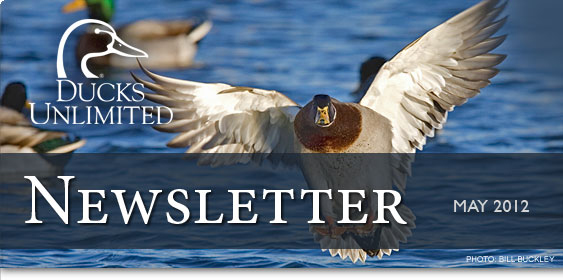 Lease, Guide or Freelance?

Waterfowlers should consider their options on how, when and where they hunt

When you get down to it, there are really only three ways most of us can hunt waterfowl. You can pay to lease a spot. You can hire a guide for the day. Or you can freelance on either public or private land (with permission). Which is best?

May Gear Guide

Gearing up is a year-round process. Stay one step ahead with dual-purpose equipment. The May Gear Guide is packed with items that may play a role in summer adventures, but will definitely come in handy this fall.

2012 DU Member Photo Contest


Best Overall Winner: Russ Verbofsky

Our editors selected this year's winners from a record number of entries, which highlighted every dimension of our nation's proud waterfowling heritage. View the slideshow »

View the honorable mentions in each category:
Waterfowl | Waterfowl Hunting | Retrievers

DU Magazine: My Ultimate
Duck Blind

After years of trial and error, DU magazine editor-at-large Wade Bourne finally built what he believes is the perfect duck blind

What's in a duck blind? There's lumber and nails, maybe a coat of paint, and some camouflage netting or burlap, topped off with cut brush or marsh grass. But there's a lot more in a duck blind than meets the eye. There's hard work, ingenuity, and the hopes and dreams of the hunter or hunters who built it.

DU News: Recent Headlines

DU applauds 2012 Farm Bill committee passage

Ducks Unlimited announced its support and appreciation to the Senate Agricultural Committee today as it passed the 2012 Farm Bill out of committee. The bill now heads to the Senate floor for a full vote, although the timing is unclear.

More Headlines

Happy 75th: Anniversary Message

Outdoor Life Editor Andrew McKean wishes Ducks Unlimited a Happy 75th Anniversary.

Inspired Giving: DU Project Dedication

A dedication honoring DU Legacy Sponsors Anthony and Kathleen Rose of Wakefield, Rhode Island, was held in October at the U.S. Fish and Wildlife Service Visitor's Center in Charlestown.


Lease, Guide or Freelance?
My Ultimate Duck Blind
Photo Contest Winners
Gear Guide
Happy 75th Videos
... and more

Favorite Member Photos

Check out our editors' favorite selections from DU's Member Photos of the Day for the month of April.

DU National Convention

Gather with your DU family in Nashville, Tennessee, as we celebrate the 75th anniversary of Ducks Unlimited at the 2012 National Convention!

Video Spotlight

Wade Bourne, DU magazine editor-at-large, explains the unique features of the blind he constructed and camouflaged in the middle of a flooded agricultural field.

Corporate Sponsor Spotlight

Leading companies, corporations and brands recognize Ducks Unlimited as the leader in wetlands conservation and one of the largest and best membership organizations in the world.

These corporate sponsors, product licensees and promotional providers care about DU and its supporters. They make a difference in DU's mission each day as DU conserves acre after acre of critical wetland habitat.

Retriever Training

Inside, off-season with Deke the DU dog

Mike Stewart of Wildrose Kennels shows how and why you need to reinforce retrieving, even indoors this spring and summer. Deke the DU dog retrieves hats, gloves and a cooler in this segment.

Recipe Spotlight

The Perfect Duck Sandwich