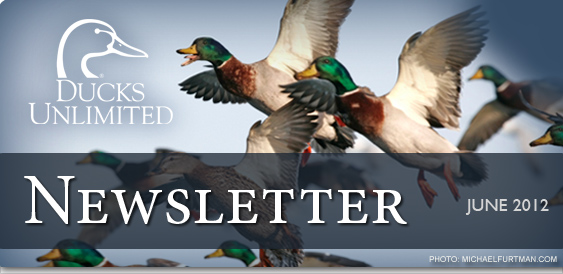 A Conversation with Dan Ashe

Director of the U.S. Fish and Wildlife Service is a strong supporter of wetlands and waterfowl conservation

Dan Ashe was confirmed as the 16th director of the U.S. Fish and Wildlife Service (USFWS) in June 2011. Ashe recently took a few minutes out of his busy schedule to answer a few questions from Ducks Unlimited.

Strength in Numbers: Ducks Unlimited Membership Drive

Help DU add 35,000 members this month

We are excited to announce the Ducks Unlimited Membership Drive! Our goal is to add 35,000 members during the month of June. That's more than 1,000 members every day! In order to achieve this ambitious goal, however, we need YOUR help.

June Gear Guide

The June Gear Guide is an excellent resource for anyone searching for the perfect Father's Day gift, or a waterfowler doing some mid-summer preparation around duck camp.

DU Magazine: Waterfowler's Notebook

Off-Season Scouting

When is the best time to look for a new duck hunting spot? Anytime you can. Savvy hunters are always alert for an opportunity. Off-season scouting can lead to some valuable discoveries.

DU News: Recent Headlines

Interior Secretary renews commitment to waterfowl conservation at 75th DU National Convention

On May 31, at the 75th Anniversary Ducks Unlimited National Convention, Secretary of the Interior Ken Salazar signed the 2012 Revision of the North American Waterfowl Management Plan (NAWMP), reaffirming the country's commitment to one of the largest and most successful continent-wide conservation initiatives ever undertaken.

More Headlines

DU Membership App

The Ducks Unlimited Membership app is a virtual membership card exclusive to DU members. Now you can carry a digital version of your card everywhere you go, conveniently on your iPhone or Android device!

Nashville DU Corporate Shoot

The Nashville Ducks Unlimited chapter hosted a corporate sporting clays shooting event recently at the Tennessee Clay Target Complex. It was a great success and will be listed as a Diamond 75th anniversary event, raising more than $200,000 for DU's wetlands conservation efforts.

Illinois Wetlands Conservation Grant

The Illinois Clean Energy Community Foundation has awarded Ducks Unlimited a $5 million grant to conserve, restore, and protect up to 3,000 acres of vital wetland habitat along the Illinois River. The grant is the largest gift DU has received to date for wetlands conservation in Illinois.


A Conversation with Dan Ashe
DU Membership Drive
Off-Season Scouting
Gear Guide
DU-TV 2012 Season Preview
DU Membership App
... and more

Favorite Member Photos

Check out our editors' favorite selections from DU's Member Photos of the Day for the month of May.

Share Your DU Story

We have shared Ducks Unlimited's 75-year history with you, and now we want you to share your Ducks Unlimited story with us! We will select several reader-submitted stories to post at www.ducks.org.

DU-TV 2012 Season Preview

Are you ready for waterfowl season? Get in the blind with the 2012 Ducks Unlimited Television show, beginning the first week of July.

Corporate Sponsor Spotlight

Duck Calling Tips

Call to a duck's reaction

Jim Ronquest, RNT-V producer, describes how varying your calling techniques based on the ducks' body language will improve your calling success.

Retriever Training

Summer heat training precautions

Mike Stewart of Wildrose Kennels explains a few precautions to take when working with your retriever on hot summer days.

Waterfowl Recipe

Grilled Duck Bites, by Scott Leysath

Happy 75th Anniversary Message

David Nelms, chairman and CEO of Discover, wishes Ducks Unlimited a Happy 75th Anniversary.

Inspired Giving

DU Project Dedications

Each year, hundreds of loyal Ducks Unlimited members gather at dozens of locations across the continent to honor the special friends, volunteer leaders, and philanthropists who make wetlands and waterfowl conservation possible.