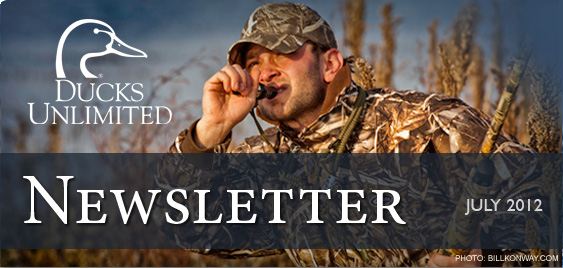 2012 Duck Numbers

Duck numbers remain strong as habitat declines

The U.S. Fish and Wildlife Service released its preliminary report on breeding ducks and habitats, based on surveys conducted in May and early June. Total populations were estimated at 48.6 million breeding ducks in the surveyed area.

DU Magazine: Potholes in Peril

New threats to prairie wetlands could mean big trouble for duck populations

In the Prairie Pothole Region, small glacially formed wetlands, known as "potholes," make a duck's world go round. These shallow, highly productive wetlands provide the invertebrate food resources hens need to produce eggs and determine how many breeding ducks the landscape can support.

July Gear Guide: Waders

Waders are an essential tool for waterfowl hunting. Not having the right waders, or leaky waders, can make or break a waterfowl hunt. The July Gear Guide offers several options to help you wade into the 2012-2013 waterfowl season with confidence.

How to Help: Estate Planning

Gold Sponsor builds a better future for the ducks

For Gold Sponsor Clarence E. Klaus Jr. of Pennsylvania, DU's 75th birthday is personal. That's because he is among the more than 5,600 DU members who will also turn 75 this year. To celebrate this shared anniversary, he recently became a Feather Society member by including Ducks Unlimited in his estate plan.

DU News: Recent Headlines

Ducks Unlimited celebrates victory for Gulf Coast restoration

Ducks Unlimited is celebrating the inclusion of key elements of the RESTORE Act in the Surface Transportation Extension Act reported out of conference committee.

More Headlines

Donate from your mobile phone

Text DUCKS to 50555 to give $5 to conservation.

Duckling Survival

A variety of factors influence how many young ducks fly south each fall.

Photo Essay: Kids Afield

A photographic celebration of children learning and enjoying the sport of hunting.


2012 Duck Numbers
Potholes in Peril
Gear Guide
DU Gold Sponsor
DU-TV 2012 Season Preview
DU Text to Give
... and more

Favorite Member Photos

Check out our editors' favorite selections from DU's Member Photos of the Day for the month of June.

DU-TV 2012 Season

Are you ready for waterfowl season? Get in the blind with the 2012 Ducks Unlimited Television show, now airing with hosts Huntley Ritter and Mike Checkett.

Corporate Sponsor Spotlight

Leading companies, corporations and brands recognize Ducks Unlimited as the leader in wetlands conservation and one of the largest and best membership organizations in the world.

Duck Calling Tips

Change the speed

Founder of RNT Calls, Butch Richenback, provides a tutorial on how to change speeds within your quacks.

Retriever Training

Deke versus the Heat

Mike Stewart of Wildrose Kennels provides tips for keeping your dog from overheating during summer training exercises.

Waterfowl Recipe

Duck & Broccoli Stir-Fry, by Scott Leysath

Happy 75th Anniversary Message

Dan Ashe, director of the U.S. Fish & Wildlife Service, wishes Ducks Unlimited a Happy 75th Anniversary.

Land & Wildlife Expo

Aug. 9-11 in Nashville, Tennessee

Connect with those who share your passion for wildlife and the land they call home at the second annual Bass Pro Shops Land & Wildlife Expo presented by RAM Truck, August 9-11, at the Gaylord Opryland Resort & Convention Center in Nashville, Tennessee!