Light Goose Migration Headquarters
Waterfowler's Notebook
DU Project Dedication
Gear Guide
Happy 75th Videos
...and more
Favorite Member Photos
Our favorite selections from the month of January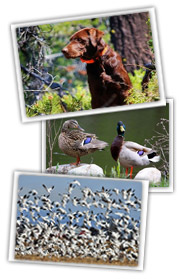 Wood Duck Resources
Build a Wood Duck Box
Participate in wildlife management by building a wood duck box! Strategically placing a wood duck box can be a fun and exciting way to get hands on with conservation in your area. Download the simple instructions from the Wood Duck Resources section of our website.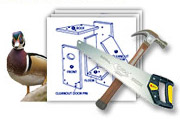 Happy 75th!
Exclusive 75th Anniversary Content on ducks.org
DU is marking its 75th anniversary with an entire year of celebrations! Visit the 75th section of the DU website to see exclusive content, including video messages from partners and friends, an interactive timeline of DU's history, conservation highlights from all 50 states, excerpts from the new DU book and a schedule of 75th anniversary events nationwide—including the 75th DU National Convention! Thank you to every single volunteer, supporter and partner who has made our success possible.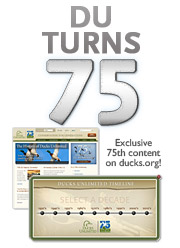 Chapter Spotlight
Fort Bragg, California
Great things sometimes come in small packages. The Fort Bragg, California, DU chapter is a case in point. Despite its small size, this remote lumber and fishing community, located on California's rocky coastline about 165 miles northwest of San Francisco, has been churning out impressive DU events for the past 30 years.
Happy 75th!
Anniversary Video Message
Michael Waddell from the Outdoor Channel's "Bone Collector" wishes Ducks Unlimited a Happy 75th Anniversary. To see more Happy 75th videos, visit www.ducks.org/75th.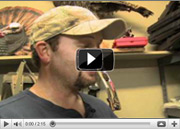 Follow the geese this spring
Light Goose Migration Headquarters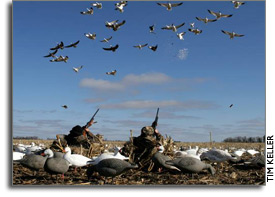 The 2011-2012 regular waterfowl season has come to a close throughout the country, but before you begin storing equipment, it's time for light geese in the United States. The Light Goose Conservation Order offers waterfowlers liberal regulations to help control exploding populations of light geese. Chasing blues, snows and Ross's geese during the spring migration takes knowledge, skill and plenty of scouting. Ducks Unlimited's Light Goose Migration Headquarters contains hunting tactics and essential tools for understanding bird behavior. The DU Migration Map will provide you with an up-to-date spring migration status for your area. Log onto DU's Light Goose Migration Headquarters today!
DU Magazine |
Waterfowler's Notebook
Useful Tools: Waterfowlers can never have enough gear at their disposal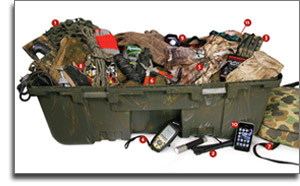 It never hurts to be prepared. Following is a somewhat random list of gear to always keep handy while waterfowling. Obviously, different items will be applicable in different hunting situations, but any of them could help save the day on your next duck hunting trip.
DU News |
Recent Headlines
Ducks Unlimited celebrates 75 years of conservation success
Special website, events, book highlight organization's legacy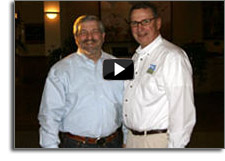 Ducks Unlimited marked its 75th anniversary on Sunday, Jan. 29. Started by four sportsmen on a mission to save North America's waterfowl populations—and the continent's strong waterfowling traditions—DU's humble beginnings came during the Great Depression and one of the worst droughts in history, far from ideal circumstances. But seven decades later, DU is celebrating 75 years of conservation success due to the tireless support and efforts of its founders, generations of DU members and supporters, volunteers, partners and champions of the organization's conservation mission.
Read more » | View video message from DU Leaders »
More headlines »
Happy 75th! |
Anniversary Video Message
National Wild Turkey Federation, a DU Conservation Partner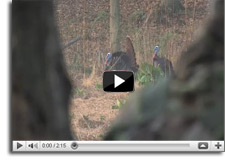 Dr. James Earl Kennamer, Chief Conservation Officer, and George Thornton, CEO, both of the National Wild Turkey Federation (NWTF), wish Ducks Unlimited a Happy 75th. Visit the DU 75th anniversary website to see more Happy 75th videos and anniversary content.
Gear Up |
February Gear Guide
Gear up for Light Geese
The Light Goose Conservation Order has created a new buzz in the waterfowling world and as more hunters chase light geese every year, the equipment continues to improve. Decoying large flocks of snows, blues and Ross' geese means quality decoy spreads, well-hidden hunters and plenty of time spent scouting. The February E-Newsletter Gear Guide offers a combination of equipment to help improve your success and comfort while hunting the liberal spring goose season.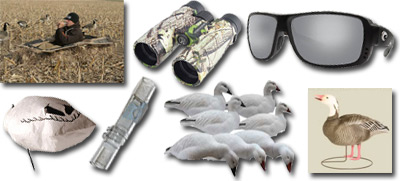 Duck Calling Tips |
Learn Slow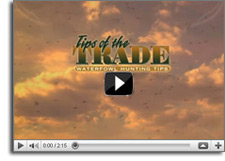 Butch Richenback, founder of RNT Calls, takes you step-by-step through learning to call ducks. Learning slow, and piecing individual segments together, will allow you to learn to be a better caller.
Inspired Giving |
DU Project Dedication
Meadow Valley Flowage Dedication (Wisconsin)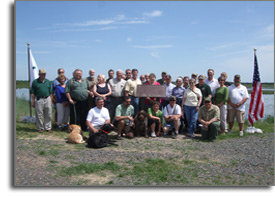 To celebrate DU's 100,000th acre conserved in Wisconsin, supporters of wetland conservation gathered last June at the 600-acre Meadow Valley Flowage wetland-enhancement project in Juneau County. Among those assembled were DU Major Sponsors and volunteers, project partners, and federal representatives. In addition to the 30 Major Sponsors and their families listed on the plaque, project partners included the Wisconsin Department of Natural Resources, the North American Wetlands Conservation Council, the U.S. Fish and Wildlife Service, and the Stan Plis Sportsman's League.
Partner Spotlight |
Winchester
Winchester presents DU with Partners in Conservation Award
Today, Ducks Unlimited is the largest, most effective wetlands and waterfowl conservation group in the world. To honor DU's 75th anniversary, Winchester Ammunition, a long-time partner of Ducks Unlimited, presented DU with its "Partners in Conservation Award" at Winchester's SHOT Show booth on Jan. 18, 2012.
Recipe Spotlight |
Quick and Tasty Scaloppine
Submitted by Scott Leysath
8-12 skinless duck breast fillets
1 cup all-purpose flour
1 Tbsp. each salt, coarsely-ground black pepper, paprika, Italian seasoning
3 Tbsp. butter
2 Tbsp. olive oil
3 cloves of garlic, minced
1/4 cup yellow onion, minced
2 Tbsp. capers, drained and rinsed

1/3 cup chicken broth
1 Tbsp. lemon juice
16 asparagus tips, blanched and cooled
1 cup mushrooms, thinly sliced
1 zest of lemon (outside yellow part only)
2/3 cup tomato, seeded and diced
1/4 cup shaved Parmesan cheese
Get the full recipe and cooking instructions for this dish »
To view and print this and many other delicious recipes,
visit www.ducks.org/hunting/recipes.