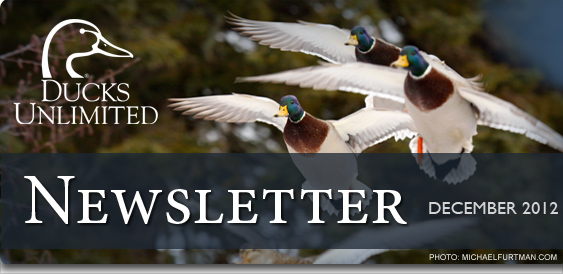 Five Tips for Staying Concealed

Waterfowl's keen vision can make life tough for hunters. After years spent studying the habits of American black ducks for Ducks Unlimited, biologist John Coluccy knows a thing or two about wary waterfowl. In this month's feature story, John shares his tips for staying hidden from these sharp eyes in the skies.

December Gear Guide

Fowl weather gear

There is one constant in late-season waterfowling – cold weather. Being prepared for extreme winter weather conditions will keep you in the duck blind and comfortable through the toughest hunting conditions. The DU Newsletter editorial team has selected winter-weather gear that could find its way onto any waterfowler's Christmas list.

2012 World Duck Calling Contest

Allen claims second World Duck Calling Championship

Main Street stage was the focal point for a large, camouflage-clad audience on Nov. 24 in Stuttgart, Arkansas. Packed shoulder-to-shoulder, the crowd swelled throughout the day as 62 competitive duck callers from across the U.S. competed in the Super Bowl of the duck calling world—the 77th Annual World's Championship Duck Calling Contest. For the second time in three years, Brad Allen of Judsonia, Arkansas, hoisted the huge trophy above his head after claiming the title of World Duck Calling Champion.

DU News: Recent Headlines

David Maass wins record-breaking fourth DU Artist of the Year award

Acclaimed wildlife artist earns top honors, helps raise millions for conservation.

More Headlines

Vote for DU-TV!

Vote for DU-TV as "Fan Favorite," "Favorite Hunting" and "Favorite Host" in the Outdoor Channel's 13th Annual Golden Moose Awards.

Diving Ducks: Into the Deep

Among North American waterfowl, three distinct tribes of ducks are collectively known as diving ducks. Photo: Michael Lasnek

Photo Essay: Green is Golden

A photographic tribute to North America's most popular waterfowl species. Photo: Ryan Askren


Five Tips for Staying Concealed
Gear Guide: Fowl Weather Gear
Duck Calling Contest
Vote for DU-TV
Last-Minute DU Stocking Stuffers
... and more

Favorite Member Photos

Check out our editors' favorite selections from DU's Member Photos of the Day for the month of November.

Corporate Partner Spotlight

Leading companies, corporations and brands recognize Ducks Unlimited as the leader in wetlands conservation and one of the largest and best membership organizations in the world.

Last-Minute DU Stocking Stuffers

Looking for that perfect last-minute gift for a DU supporter on your list? Here are several stocking stuffer ideas from Ducks Unlimited.

DU-TV Better Waterfowling Tip

Dressing for the conditions

Wade Bourne explains how to properly dress for waterfowling conditions. Wade discusses layering, proper socks, and several optional garments that may help you enjoy the cold weather.

Retriever Training

Using bird feathers

Mike Stewart of Wildrose Kennels explains how to use real bird feathers to train your retriever.

Waterfowl Recipe

Savory Waterfowl Stew, by Scott Leysath

DU Member Benefit

DU Holiday Cards—It's not too late!

There's still time to order your DU Christmas, general holiday cards and fun gifts—holiday puzzles, ornaments and note card sets.