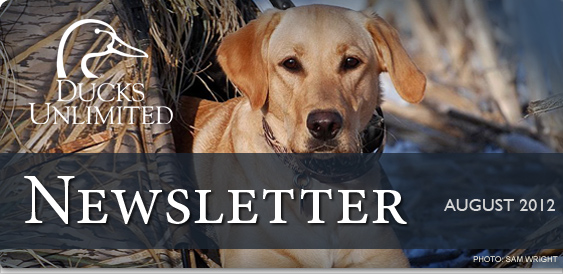 Are You Ready for Waterfowl Season?

Start preparing now

Another waterfowl season is fast approaching and every waterfowler's to-do list is long. Blinds, decoys, calls, boats, dogs—all must be in top form by opening day. The steps you take now may have an impact on your opening-morning success.

August Gear Guide

New Duck & Goose Calls

Legendary outdoor writer Nash Buckingham once said, "A duck call in the hands of the unskilled is one of conservation's greatest assets." The August Gear Guide contains new duck and goose call options for the 2012-2013 season. It's the perfect time of year to get a new duck or goose call, and there's still time before opening day to learn how to use it.

Find your gear » Duck Calls | Goose Calls

DU Magazine: The Amazing Molt

Waterfowl replace all of their feathers with new plumage at least once a year

Feathers are vital to waterfowl in many ways beyond their essential role in flight. Waterfowl replace their old plumage with new feathers at least once a year during a process known as molting.

Trophies in the Sky

Photo Essay: The importance of waterfowl bands

The first person to band birds in the United States was John James Audubon, who marked songbirds with silver thread in 1803. Now, biologists band more than 200,000 ducks and 150,000 geese and swans every year.

DU News: Recent Headlines

Key conservation legislation passes Senate panel

The Senate Environment and Public Works Committee unanimously reported to the Senate floor three bills important to conservation and of priority interest to Ducks Unlimited.

More Headlines

August is DU Month at Bass Pro

During the entire month of August, Bass Pro shoppers are encouraged to donate $2 to DU at any Bass Pro Shops retail store or online at www.basspro.com/du.

Sunrise from the Duck Blind

A photo essay depicting stunning photography of duck blind sunrises. Photo by Robert Lico

Help renew NAWCA funding

With time running out in the 112th Congress, Ducks Unlimited staff and volunteers are in high gear to encourage Congress to renew the North American Wetlands Conservation Act (NAWCA) program and fund it in the year ahead.


Are You Ready for Waterfowl Season?
The Amazing Molt
Gear Guide: New Duck & Goose Calls
Trophies in the Sky
Buy DU-TV DVDs
DU Month at Bass Pro
... and more

Favorite Member Photos

Check out our editors' favorite selections from DU's Member Photos of the Day for the month of July.

Buy DU-TV DVDs

The 2011 DU-TV Season DVDs are in the warehouse! Get past seasons on DVD and relive your favorite DU-TV moments.

Corporate Sponsor Spotlight

Leading companies, corporations and brands recognize Ducks Unlimited as the leader in wetlands conservation and one of the largest and best membership organizations in the world.

DU-TV Better Waterfowling Tip

Shoot Decoying Birds

DU-TV's Wade Bourne identifies the best tactics for shooting decoying ducks from several angles, and how to practice these shots at the range.

Retriever Training

Manuevering Decoys

Mike Stewart of Wildrose Kennels provides tips for maneuvering decoys.

Waterfowl Recipe

Flying Prime Rib, by Scott Leysath

Happy 75th Anniversary Message

John Wayne explains why he supported DU, and why wetlands conservation is important for everyone.

Land & Wildlife Expo

Aug. 9-11 in Nashville, Tennessee

Connect with those who share your passion for wildlife and the land they call home at the second annual Bass Pro Shops Land & Wildlife Expo presented by RAM Truck, August 9-11, at the Gaylord Opryland Resort & Convention Center in Nashville, Tennessee!