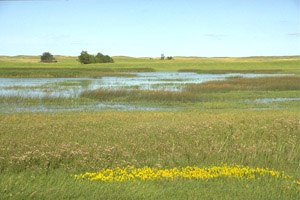 The PCOR Partnership is a collaborative effort of over 80 public and private stakeholders working toward a better understanding of the technical and economic feasibility of capturing and storing carbon dioxide emissions from the central interior of North America.
The PCOR Partnership region includes the Prairie Pothole Region, a high-priority habitat conservation area for Ducks Unlimited. This region historically was dominated by grasslands and at one time may have supported more than 48 million acres of wetlands, making it the largest wetland complex in North America. However, fertile soils in this region resulted in the extensive loss of native wetlands as cultivated agriculture became the dominant land use, resulting in the depletion of soil organic carbon in wetlands and grasslands.
In 2005, the PCOR Partnership embarked on a 4-year field verification program designed to enhance the local expertise, experience, and working relationships needed to develop practical and environmentally sound carbon sequestration operations in the region. Ducks Unlimited received a Department of Energy grant to lead the Terrestrial Carbon Sequestration Field Validation Tests for Phase II of the project.
After 4 years of field verification and operations development, over 14,250 acres of grasslands have been sampled. Wetlands and grasslands research by U.S. Geological Survey, North Dakota State University and Ducks Unlimited scientists for the PCOR Partnership have demonstrated that restoration of previously farmed wetlands and grasslands results in the rapid replenishment of soil carbon lost to cultivation. The finding that restored prairie wetlands and grasslands are important carbon sinks provides a unique opportunity to store atmospheric carbon.
Terrestrial sequestration and storage of carbon in grasslands and wetlands not only improves the quantity and quality of waterfowl habitat but also promotes a host of water and land management practices that provide numerous additional benefits. For example, reduced soil erosion and nutrient run-off, improved water quality and recreation opportunities, flood buffering, and as a potential source for alternative fuels (See link 'Co-benefits' below for more details).
Landowners in the region interested in participating in this program can click here for further details and payment opportunities.
The PCOR Partnership, one of seven regional partnerships funded by the U.S. Department of Energy's National Energy Technology Laboratory Regional Carbon Sequestration Partnership Program, is managed by the Energy & Environmental Research Center (EERC) at the University of North Dakota in Grand Forks, North Dakota.
Terrestrial PCOR research activities were completed by 9/30/2009. However, Ducks Unlimited continues to be involved in the science, policy and market developments related to carbon sequestration and other ecosystem services provided by waterfowl habitat in priority areas.
Fact Sheets and Reports Developed for PCOR
For more information, contact:
Dawn Browne
Manager of Conservation Programs
Business Development and Technology
DU National Headquarters
901-758-3731

Randal Dell
Regional Biologist- Environmental Markets
Great Plains Regional Office
701-355-3593